Innovation that improves lives
PHILOSOPHY
Over the years, Unichem has invested significantly in Research and Development (R&D) to create state-of-the-art R&D facilities. Backed by a research team of over 300+ highly-trained scientists with excellent credentials, the company's R&D facilities are equipped with cutting-edge pharmaceutical research technology.
Unichem's laboratories are equipped with the latest sophisticated analytical instruments like XRD, NMR, GC, LCMS, IR/UV, TGA, DSC, Prep HPLC and Flash Chromatography.
The company's expanded R&D facilities have strengthened its chemical and formulation capabilities. At the same time, its biotechnology R&D facility, which focuses on cost-effective bio-similar products using recombinant microorganisms, is geared to provide a new edge to Unichem's research and development efforts.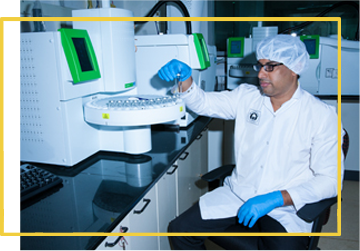 Focus
Unichem's R&D activities are focused on the following:
Novel cost-efficient process development for Active Pharmaceutical Ingredients (APIs) and intermediates
Formulation development for generic APIs
Non-infringing routes for manufacturing products to be marketed internationally
Bio-similar products by using recombinant DNA
Contract research to develop formulations for New Chemical Entities (NCEs) and Generic APIs
Inspired by an ambition to drive path-breaking innovative research, Unichem aims to improve people's health by consistently providing better, more effective and safe products.